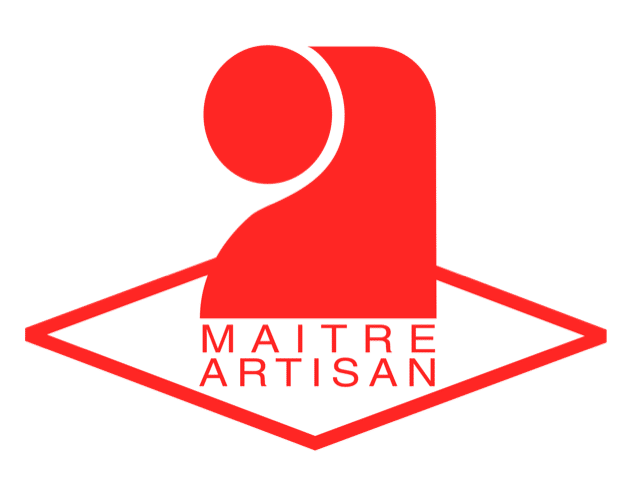 The careful attention paid to selecting our meats leads to an exceptional, lively product.
Slowly aged, dry salted, classic or exclusive to Mont Charvin, our dried meats make for an unforgettable taste experience.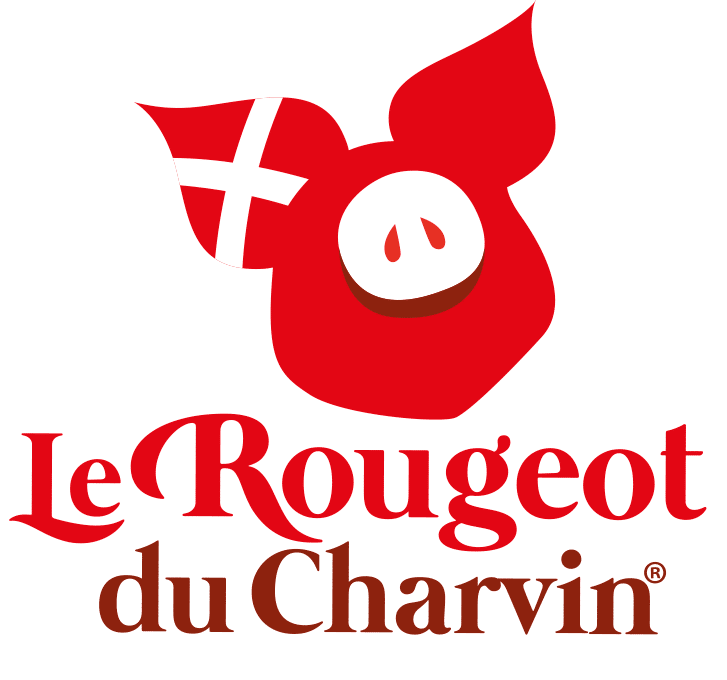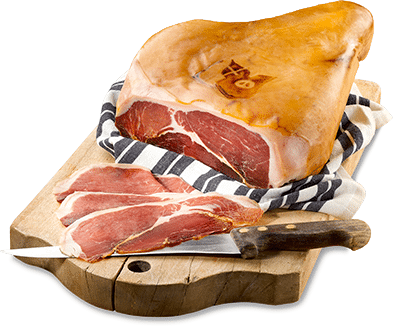 Boneless cured Savoie ham
Discover the unique and authentic taste of 100% natural old-style hams. A cornerstone of our traditional artisanal expertise, this Savoie cured ham comes from our own suppliers at Le Rougeot du Charvin®. After being deboned, it is rubbed in dry salt several times over two to three weeks, before being left to dry for at least 15 months in the cellar. This long ageing process gives the ham a fruity, tender and delicate character.
Savoie hams are notable for the Parma-style way in which they are prepared, giving them a fairly short, rounded look and a pear-shaped or flat form. Like all our cured meat, this product is free from ascorbate, added lactose, colouring and polyphosphate.
To be enjoyed in wafer-thin or thin slices or in sandwiches.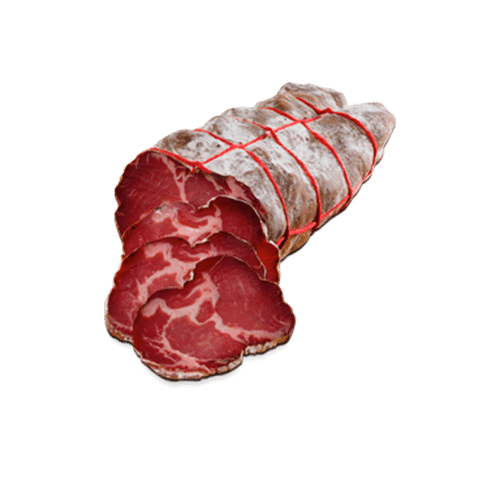 La Coppa
You might have heard of Corsican or Italian coppa – so now try Coppa Mont Charvin! Our "dry salt" curing techniques lend an exceptionally tender feel to the meat, which will work wonders in your appetizers or cheese and potato dishes...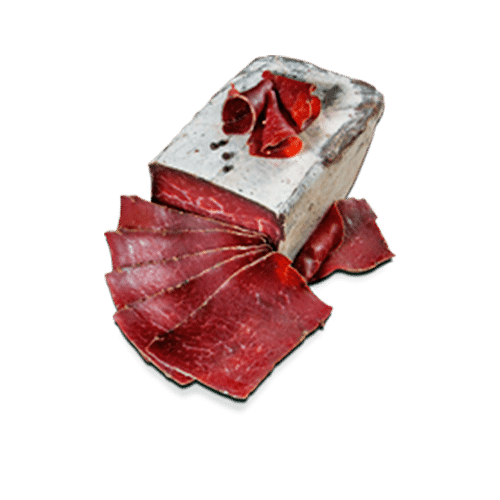 Dried beef
If you are a connoisseur of the finer things, this carefully selected beef will surprise you with its delicacy and slightly herb-inflected notes.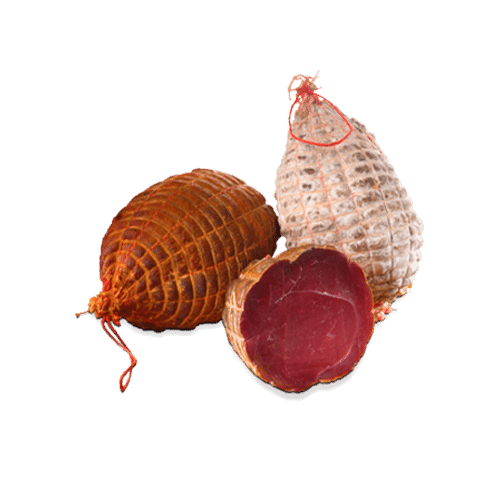 Plain and smoked topside of ham
Dried for several months in the Alpine air, Mont Charvin topside of ham will delight you with its delicate aromas.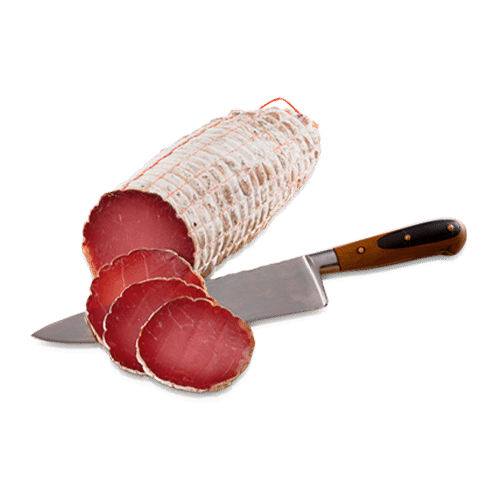 Lonzu
Corsica's superb traditional ham derives its finesse from our rigorous making techniques and the slow maturation process it undergoes in our dryers.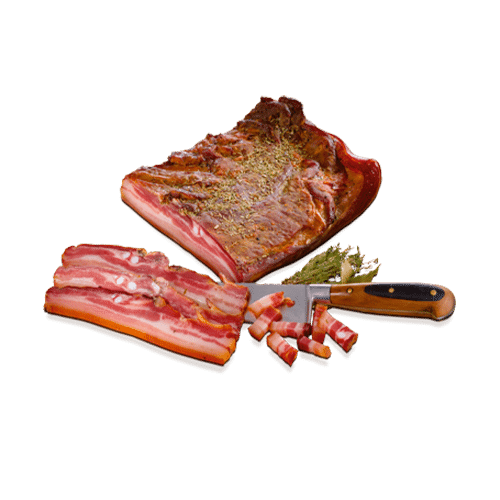 Plain and smoked pork belly
Delicately smoked, slowly dried and then dusted with spices, our pork belly can be enjoyed like a ham. To be cut thinly!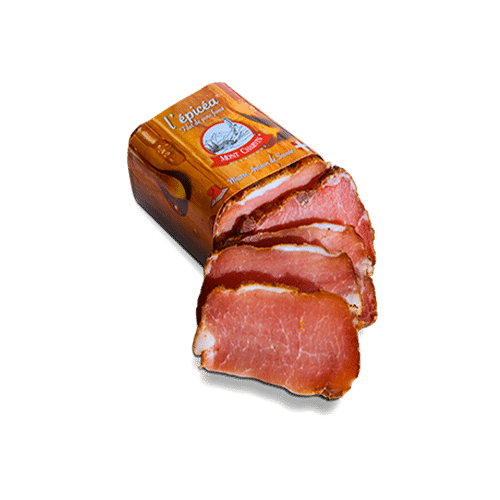 L' Épicéa®
Our beautiful forests are filled with the sweet smell of resin. Explore the captivating flavour of spruce bark in this slow-dried pork fillet, a Savoyard cured meat classic.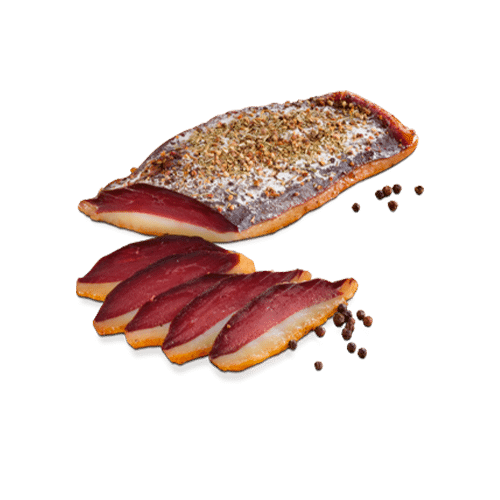 Duck breast
Delicate flavours of south-western France are prepared by our Master Artisan so that we can offer you a subtly spicy, slightly smoky flavour. A divine accompaniment for your salads and appetizers.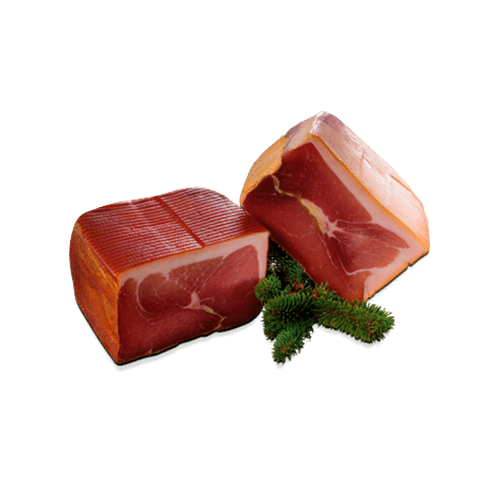 Plain and smoked topside of ham
Cut from the finest part of a ham, this delicious plain or smoky piece of meat is patiently dried and will delight even the most demanding gourmets.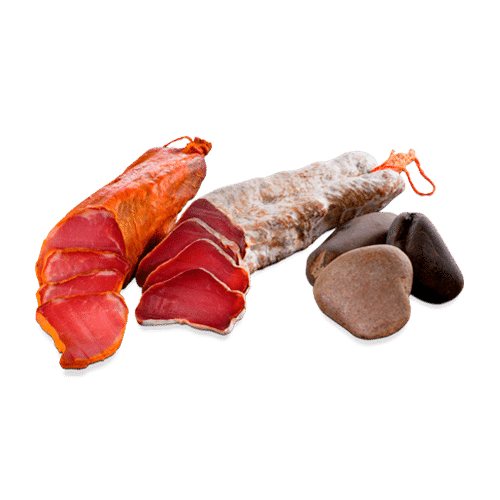 Plain and smoked Caillasse®
Behind its tough name, which means "gravel" in French, hides a delicious product made with dried pork fillet, a speciality exclusive to Mont Charvin. To be enjoyed in thin slices!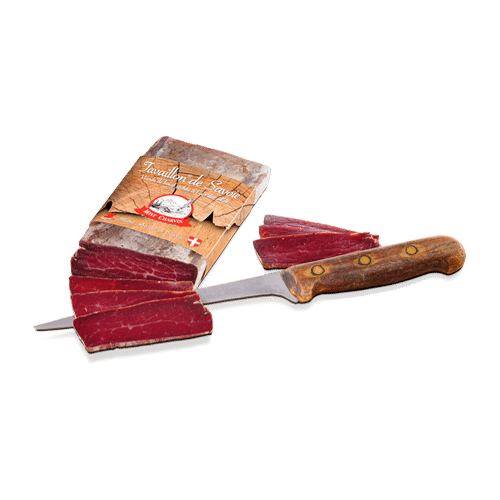 Le Tavaillon®
Another Mont Chavin creation: a small slab of dried beef, slowly marinated in plum schnapps. Don't leave Savoie without tasting this gourmet delight!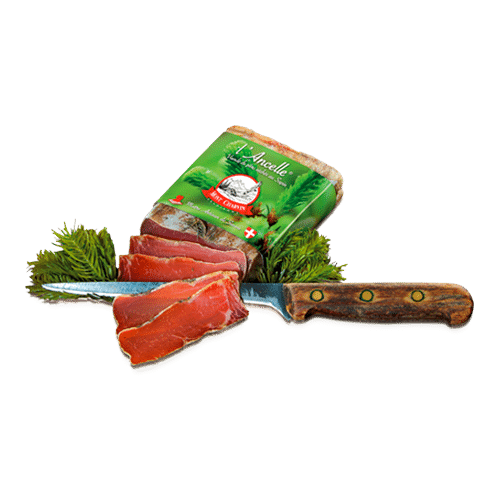 L'Ancelle®
An "ancelle" was once a wooden plank used to cover Alpine chalet roofs. Mont Charvin has borrowed the name for one of its specialties. Enjoy this woody-flavoured pork fillet that's been dried and marinated in an infusion of pine tree buds. Delicious!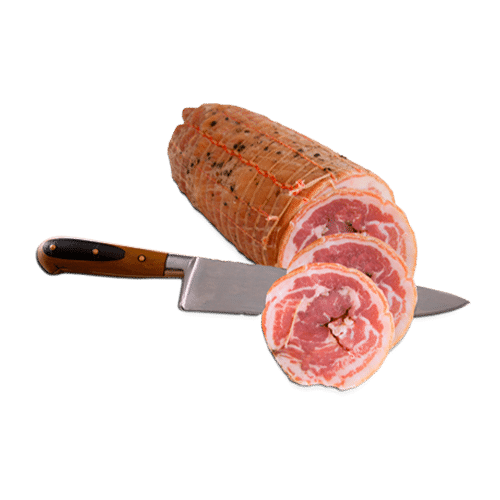 Pancetta
Also known as "Italian bacon", this beautiful rolled and expertly spiced piece of belly meat will serve as the perfect accompaniment for your charcuterie platters during a meal with friends.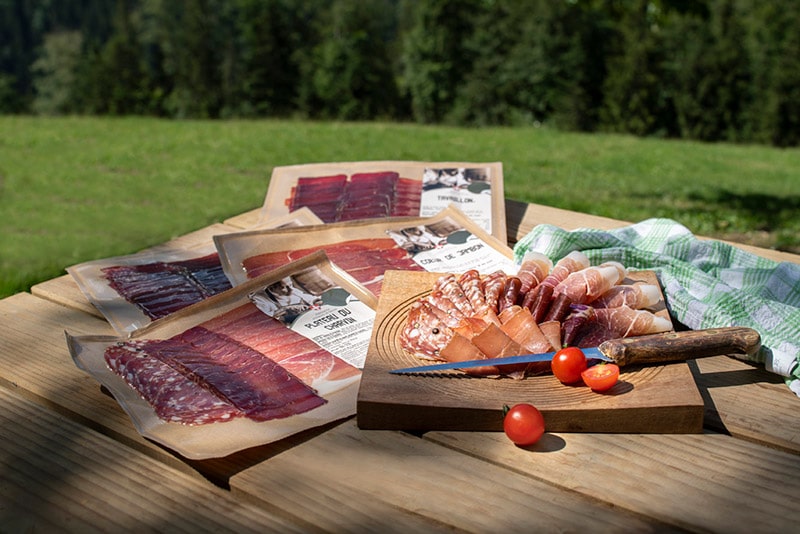 Sliced meats
Discover the flavours of Mont Charvin in these ready-to-eat products. These thinly sliced meats will work wonders with your appetizers and during meals with friends.
Mont Charvin's recommendation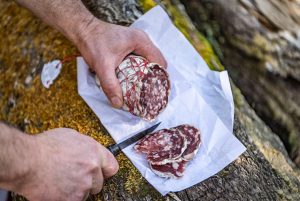 Use very thin slices of about 1 mm thick to bring out all the flavours and aromas of our dried meats. 
Best enjoyed at room temperature.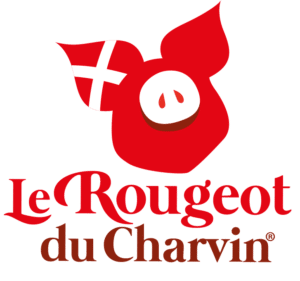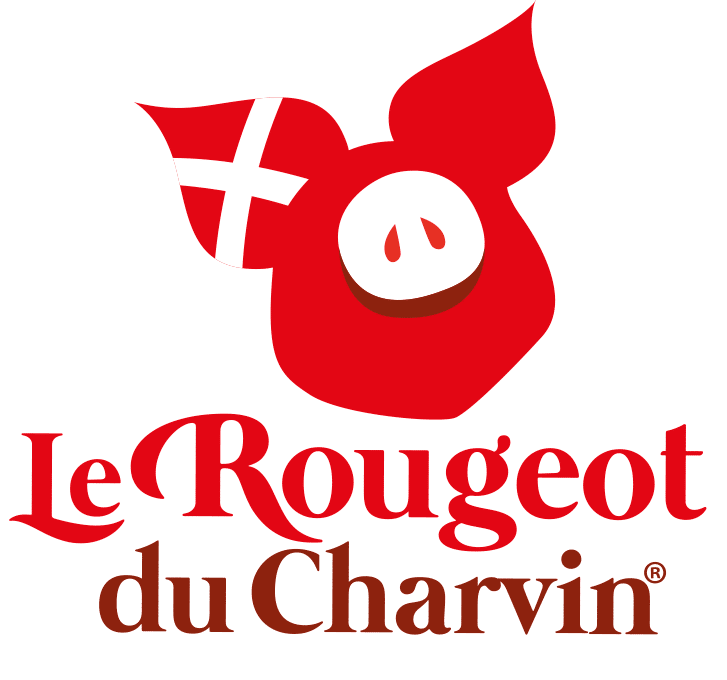 Traditionally, dry Savoie ham comes from chunky pigs fed on whey produced by small cheese makers. This complementary relationship between dairy and pig farming has now completely disappeared… But it is precisely this that Mont Charvin wants to revive with itsLe Rougeot du Charvin® label. Our Savoie cured ham is currently the only product which is supplied entirely by our exclusive quality subsidiary. So make sure you try our label!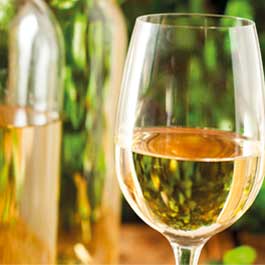 Forget the clichés! Cured meat pairs best with white wine. It's strange but true! Red wine's tannins often overpower dried meat's flavours. Rosé and white wines are actually better companions, or you could choose a red with a very low tannin content.
Dry white wine from Savoie and dried Mont Charvin meats form an ideal pair. Nature knows best, right?